Exterior House Paint
Choosing the Ideal Exterior House Paint
Renovating a house is the ideal way to spice up both the interior and the exterior of the home, and what better way to do that than repainting the house. When choosing exterior house paint, one should carefully consider the various options and go with a product that is not only the ideal colour, but one that will also protect the walls and retain its look for years to come.
There are many things to consider when choosing exterior house paint. Firstly, the age of the home is very important. If you are looking to repaint an old home, you will most likely want to sue a historically accurate colour. For this you may want to hire a professional, since you will need to analyze the current paint to determine the best colour and product that will give your house that perfect aged look, while still being stylish and professional. There are a number of historic paint charts that will help you to choose the perfect look that will accentuate the features of the house and give it a wonderful colour that are accurate for the time it was built in.
In contrast, many homeowners choose to paint their homes with modern colour paint, even if it is a home that has been built decades ago. This will give it a fresh look and fit in perfectly with your own personality. It remains a question of choice and preference, and when done by professionals, the house will look stylish, regardless of its era.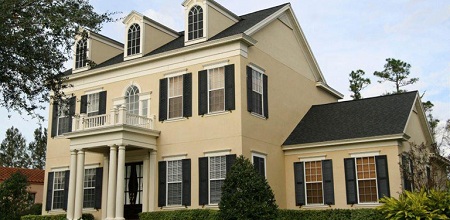 Always remember to consider your neighbours and environment when choosing your ideal exterior house paint. This means that you might want to have a look around and see what the overall ???theme??? or accepted standard is. You can paint your home any colour you want, but in many cases, choosing a colour scheme that is way out in comparison to the rest of the surrounding homes, might have a negative effect on the neighbourhood and it can even devalue the home itself. It is, therefore, imperative to choose a good colour; one that will fit in with the environment, and one that will allow you to enjoy your home at the same time.
You can also blend in the colour with your surrounding landscape; for example if you have a luscious garden or live in an area rich in trees and plants, you can go with earthy tones and plain colours, such as whites, cream colours, brown and greens. This will help your home to blend in with its surroundings and allow you to have colours that will complement each other perfectly.
Your roof is very important when you consider colours to use. Your roof and your home???s colour need to complement each other, and they should not clash at all. You need to choose your colours carefully as it is very expensive to repaint your roof. The colour that you choose for your home does not necessarily have to match the colour of your roof, but they need to work together to create harmony. This will make a big difference in the overall look and feel of your property. Most homes might also have features that will not need to be painted. This can include brick walls, or wooden window frames. This should be considered before you choose and buy your exterior house paint.