Bathroom Renovations
Getting Ready for Stylish Bathroom Renovations
Your bathroom is one of the most personal and widely used areas in your home and it can always benefit from a stylish facelift to give it a new, modern look that will make it much more attractive to spend time in. Many homeowners decide to choose this area first when it comes to improvements or additions to their property.
Bathroom renovations can easily be accomplished since it is such a versatile room that is used on a daily basis by all of the members of the house. Remodelling your bathroom will also add value to your property and this is something that every home owner can benefit from. In addition to the increased value, this area is also easy to maintain since it is usually not as big as the rest of the areas in and around your home, and you can change the d??cor and style anytime you feel like it; without it having any impact on the rest of the house. It???s an area that is unique and entirely able to be styled on its own. Since so many people spend a significant time of their day in this space, it???s a favourite to begin with if you are considering renovating your home and its contents.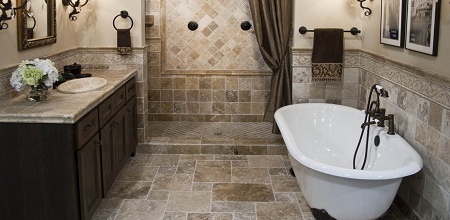 One of the biggest advantages when it comes to bathroom renovations is that you can choose any style that you want to implement in this space. You can choose to stay neutral and natural, or you can choose a main focus colour and choose all the accessories to compliment it. Normally, people usually go with basic colours such as blues, greens and browns to style this area of their house, since they do not want it to be too extravagant and create a whole different feel to the rest of the home.
If you choose to go with one colour, you can then choose the rest of the accessories and plumbing items to compliment it, and this is usually very easy to do. Since this room will almost always consist of a bath, shower, toilet and basin, these will also come in solid colours that are easy to work with. More often, these plumbing items are white or ivory in colour and this allows you to choose any colour for your decorations since these colours go with everything.
Renovating your bathroom can be quite exciting and affordable if you plan this out carefully. It???s not only an area that is used on a daily basis, but it is something that can positively compliment your home when styled correctly.