Wood Flooring
The Various Types of Wood Flooring Finishes
Wooden floors comprise of a wide range of timber products manufactured and used as flooring which can be either aesthetic or structural. Due to its environmental profile, wood flooring is a commonly used flooring material as it is also restorable and durable. Another form of wooden flooring considered viable as opposed to timber is bamboo. From a single piece of timer, planks are milled for solid hardwood floors. Such hardwood was originally used for structural purposes, and was used as wooden support beams termed as bearers or joists.
As a sub-floor concrete was used and solid wood was installed over the concrete flooring. Today wooden flooring is a popular choice and is used exclusively for its beautiful warm appearance and durability. Two or more wood layers are used in plank forms, the lamella layer being the top layer is adhered to the core which increases the stability of engineered wood as each layer is run at a ninety degree angle to the above layer. Wood that is engineered can be installed over various different sub-floors on grade or below, and is the most common wood floors used around the world.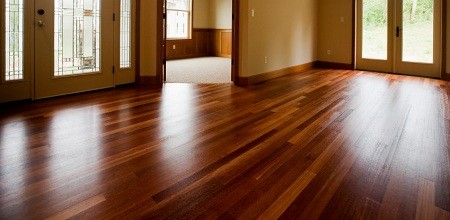 Wood Flooring is often the Preferred Choice
Timber wood floors are all made from sawn wood and the most common type is engineered wooden floors. No plastic or HDF or rotary peeled veneer is used in the construction process. Common composite wood products are veneer floors whereby a thin layer of wood is used over a core. Acrylic wood flooring is impregnated with liquid acrylic which is then hardened. Often confused with engineered wood floors are vinyl and laminated floors which have a wood surface image, and vinyl is a plastic made to resemble wood.
Solid wood for example cannot be installed directly over concrete which creates limitations as opposed to engineered wooden flooring and solid wood should not be used when you have under floor radiant heating. Solid wood comes in a plank format and is usually site finished as well as thicker than engineered wood and is installed by nailing. Wood that is engineered on the other hand has bevelled edges, and is pre finished as opposed to site finished and the installation is either floating or with glue.
Engineered wooded floor systems are easy to replace and are quick to install especially floating installation, as the planks are not glued to the sub-floor. Engineered wooden floors are well suited to floors that have under heating systems. Before the wood is sawed, it is either air dried or dried in a kiln. The wood can be cut in three different ways, all depending on the desired look and include rift sawn, flat sawn and quarter sawn.
Once the wood has been cut to the specified dimensions it will be factory finished or site finished. The wood is carefully controlled during manufacturing to prevent moisture content so that the wood does not warp during storage or transport.?? There are various different wood manufacturing styles which include sliced peel, rotary peel and dry solid sawn.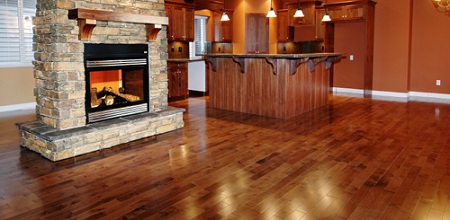 The Preparation of Quality Wooden Floors
Rotary peel is where the wood is treated by boiling the wood at a specific temperature for a stipulated period. The log is then peeled by a blade from the outside towards the centre which is known as veneering, which in turn using high pressure is pressed flat which tend to give a grain like appearance. Sliced peel is processed very similar to the rotary peel method, the only difference is that log is cut into disc shaped veneers which tends to be more durable and does not have a plywood appearance.
Dry solid sawn is a process whereby the wood s dried slowly at a low humidity level which allows excess moisture to be drawn from the wood cells giving the same appearance as solid hardwood.